Maddin Hauser
Branding & Website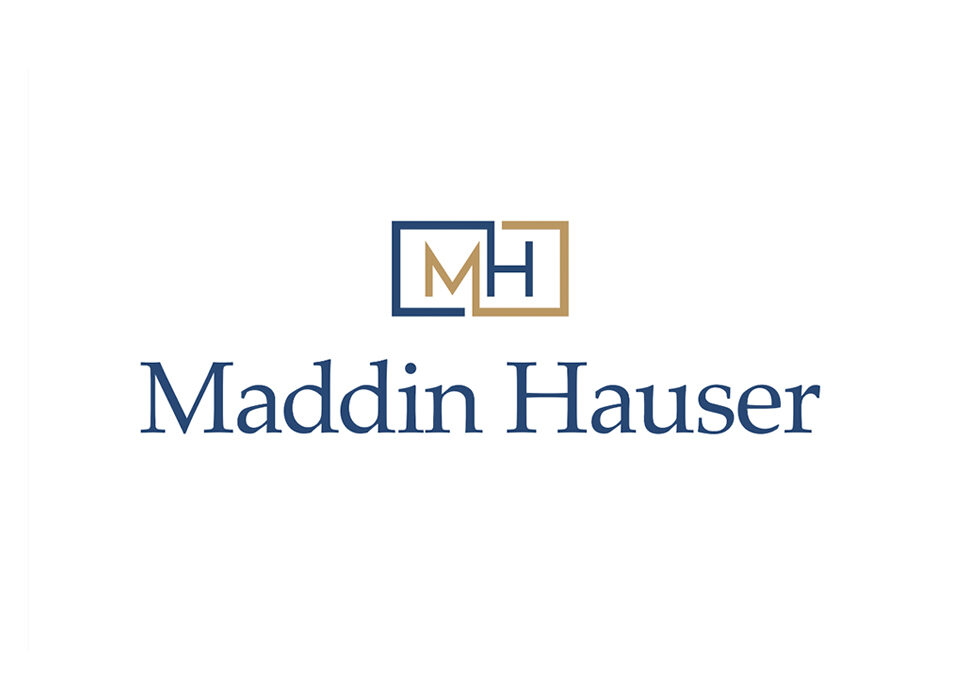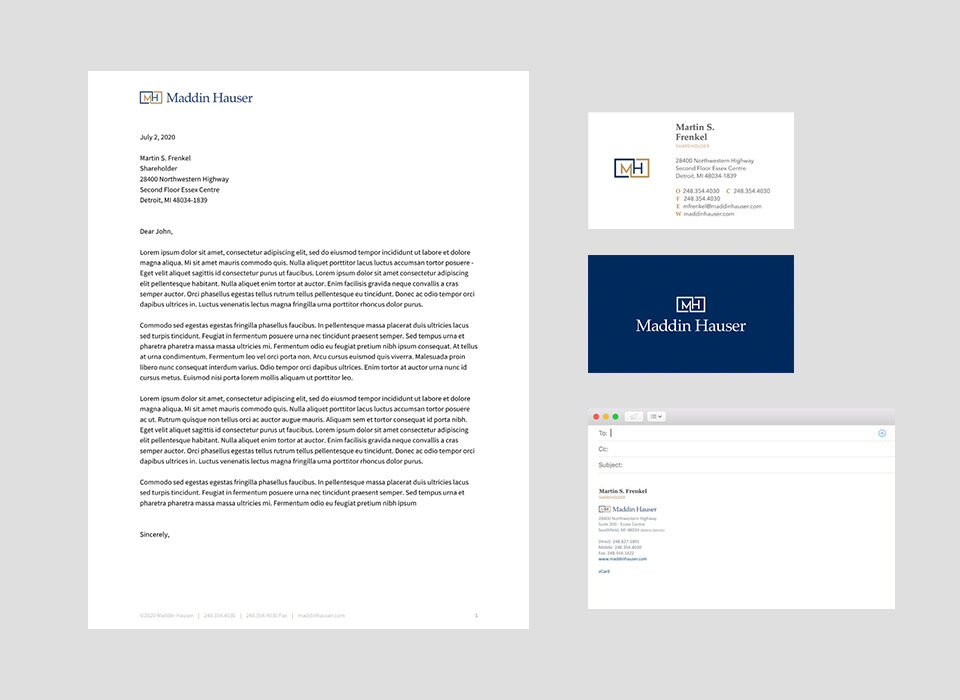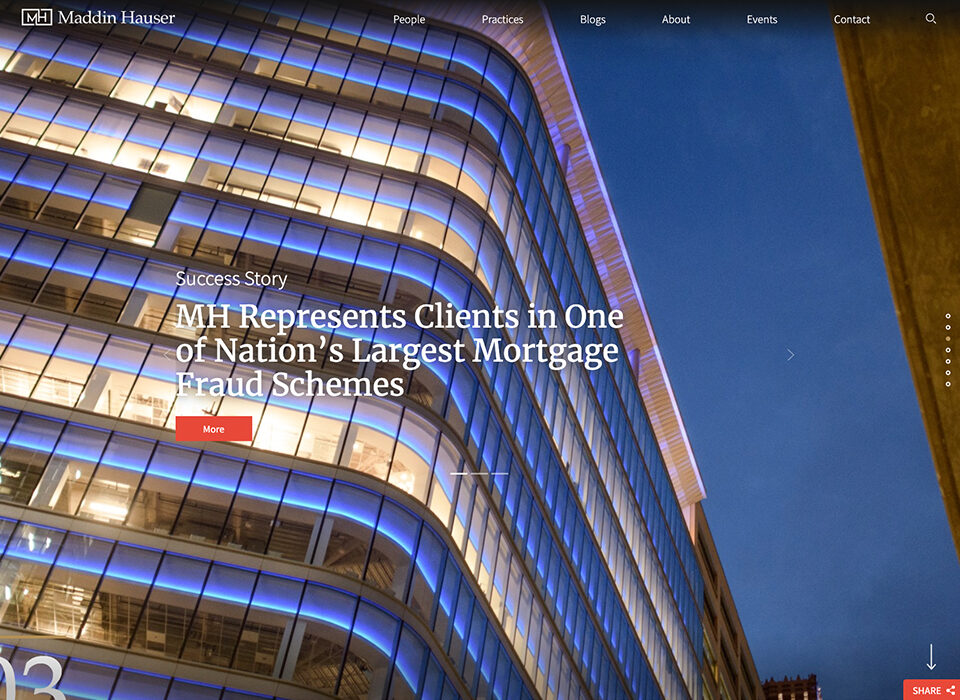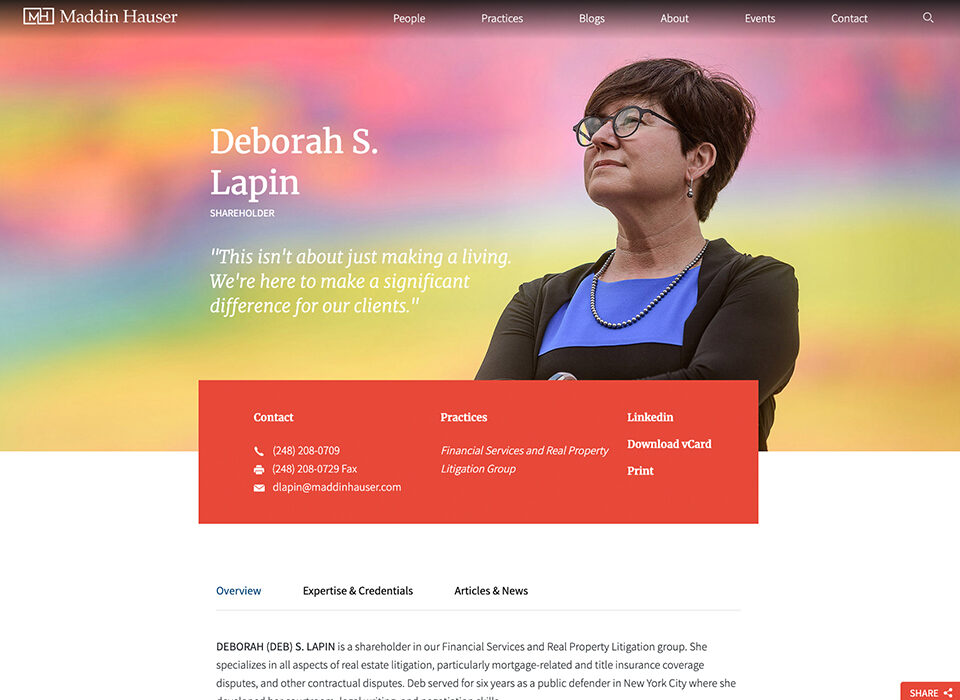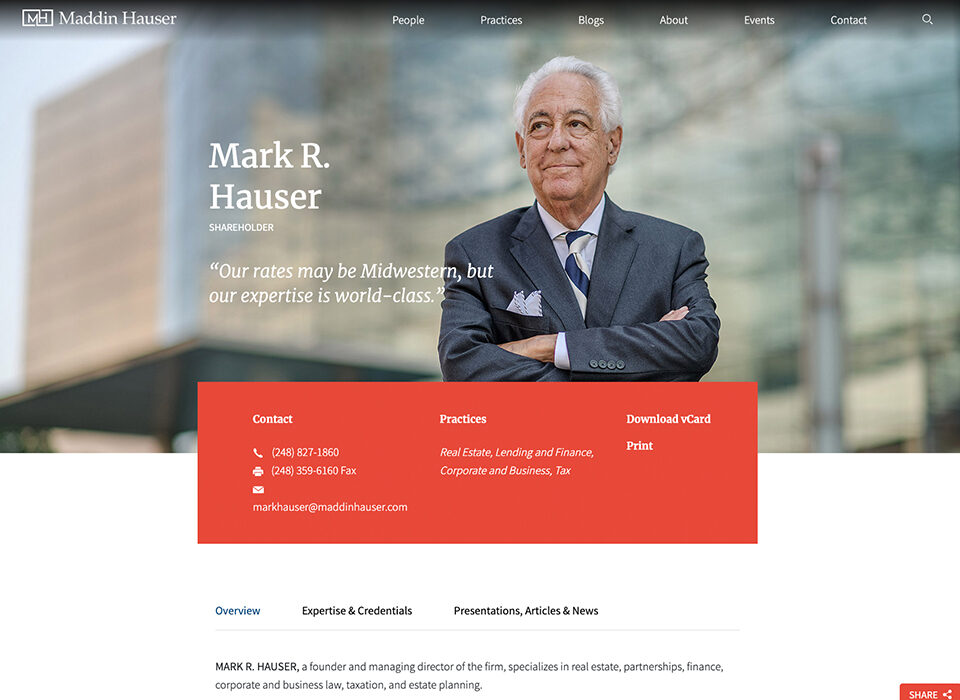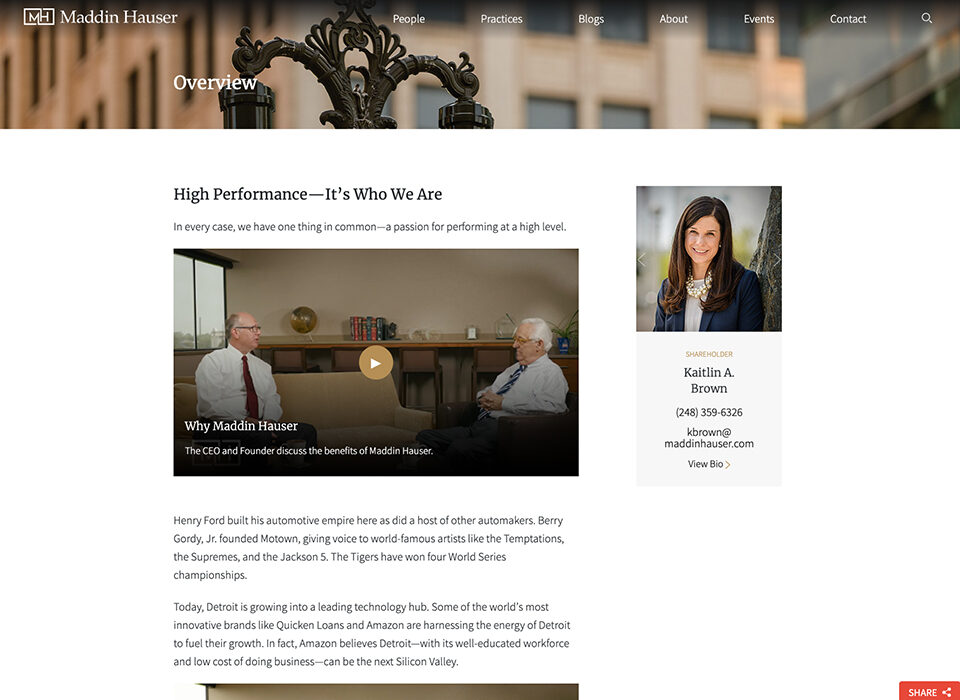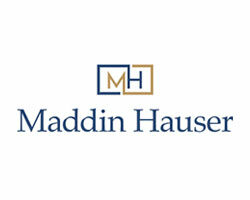 Maddin Hauser is a preeminent national business law firm based in Detroit, Michigan with 50 award-winning attorneys serving clients across a variety of practice areas.
It all began in 1925 when Milton M. Maddin opened a modest law office in downtown Detroit. His son Michael later joined the firm to establish Maddin & Maddin. It continued to grow with the addition of Richard Maddin and several associates. As Maddin Hauser grew, Detroit also grew.
Detroit is a true international city. Situated on the US and Canadian border and serving as a strategic shipping port on the Great Lakes chain, Detroit provides a vital link between the industrial and agricultural heartland of North America and the world marketplace.
Detroit also practically invented the concept of high performance. From the 1965 Mustang, to 21st century companies like Shinola that handcraft luxury brand watches, performance has—and always will be—the lifeblood of Detroit, Michigan, USA.
Maddin Hauser contacted MJ Kretsinger because their firm was in desperate need of an overhaul. Steve Sallen (CEO) recognized the Maddin Hauser brand presence had fallen behind the times, so he wanted to revitalize the firm through a complete rebrand.
MJK led Steve and his executive team through the following process:
Discovery: MJK began with a discovery process where we conducted 8 – 1 hour key client stakeholder interviews and 8 – 1 hour client interviews, to understand the history of the firm, strengths, weaknesses and more. We also conducted a competitive analysis to gain a better understanding of what the competitive landmark looked like and how we could differentiate the firm.
Brand Architecture: The client's previous brand architecture was long and convoluted. We wanted to simplify it and give it a clear focus. We led a few client working sessions which included a SWOT analysis and soon discovered that Maddin Hauser had a passion for high performance, just like Detroit, so that became our mantra. However, Maddin Hauser was unique in that they valued high performance, while maintaining a work ethic based on Midwestern values and rates.
Branding: With this knowledge as a backdrop, our team went to work in rebranding the law firm. At MJK, we love minimalism in design and content. We're firm believers that more is less when elegant design combines with powerful messaging and beautiful photography. Our effort included a new logo, color palette, fonts, and (eventually) photography. The look & feel was then extended to a suite of Brand Stationery (business cards, letterhead, email, etc.) and a new Brand Style Guide.
Photography: Steve Sallen quickly realized that they couldn't achieve the quality of rebrand that they were looking for without new photography. During the branding effort, MJK presented a few 'Mood Boards' that gave Steve's team a vision for what the website 'could' look like with professional photography. In our work, we presented a blend of professionally dressed attorneys on location in front of of iconic, beautiful, and sophisticated architecture landmarks throughout Detroit. When the client saw the boards, the team loved it! MJK brought in a local commercial photographer that helped us identify the best locations and we scheduled and directed a 3.5 day photoshoot to capture new attorney photos, landmark images, and video content for producing 4 videos.
User Experience: While the branding effort was rolling along, MJK was busy working on the new website architecture and user experience. The website page wireframes were designed to feature the most important benefit of Maddin Hauser – its people! Throughout the website, the attorneys are presented in an intelligent way. The architecture and wireframes helped the client gain a vision for the user flow, content areas and page structure.
Interface Design: So many law firm websites look the same, so we wanted the new website to convey high performance, sophistication, and intelligence. The hope was that customers who visit the website would feel like they were engaged with high performance law firm, but once they dug in deeper the firm's commitment to Midwestern work ethic, values and affordability would shine through! The client selected a design that married rich brand colors with breathtaking photography and video. The homepage also incorporates parallax technology to provide a unique browsing experience.
Development: The website was custom developed on WordPress. MJK also leveraged an existing set of page builder blocks from previous projects to help keep the budget manageable. The result is a smart, sophisticated and scalable website that should serve Maddin Hauser quite well for years to come! The website continues to be hosted and maintained on an ongoing basis by our agency.
Visit www.maddinhauser.com to see the live site!
Services
Account Planning, Brand Identity, Brand Positioning, Content Management System, Copywriting, Corporate Identity, Design, Email Design, Hosting, HTML, Identity Design, Information Architecture, Interviews, Logo, Marketing Collateral, Photography, Production, Responsive Design, Responsive Design Prototype, Sales Collateral Design, Stationery Design, Strategy, User Experience Design, Video, Web Design, Web Development, Wordpress