New Horizon Academy
Branding & Website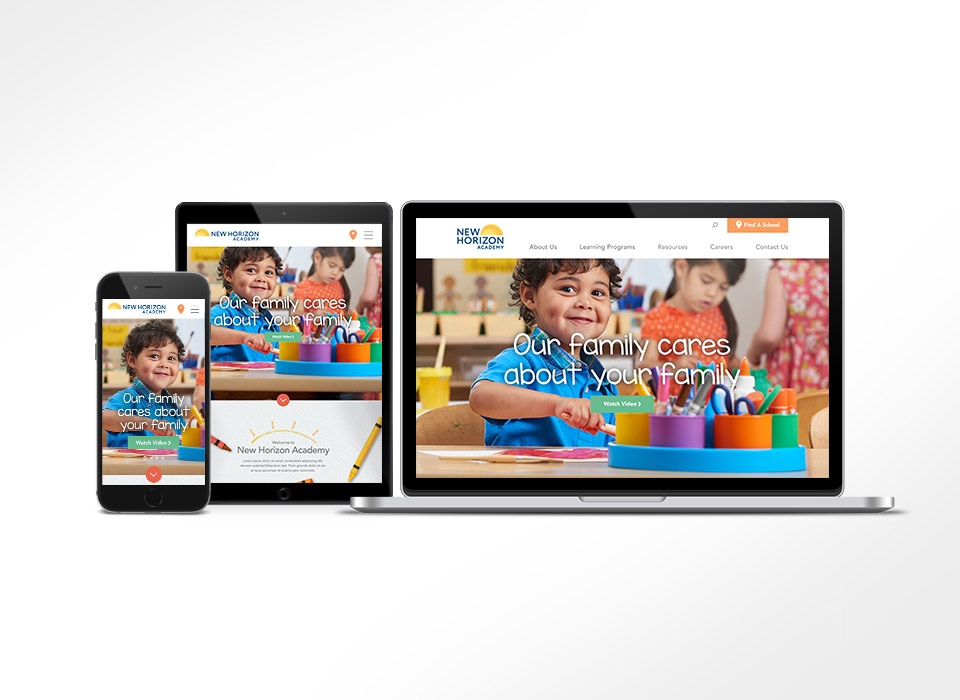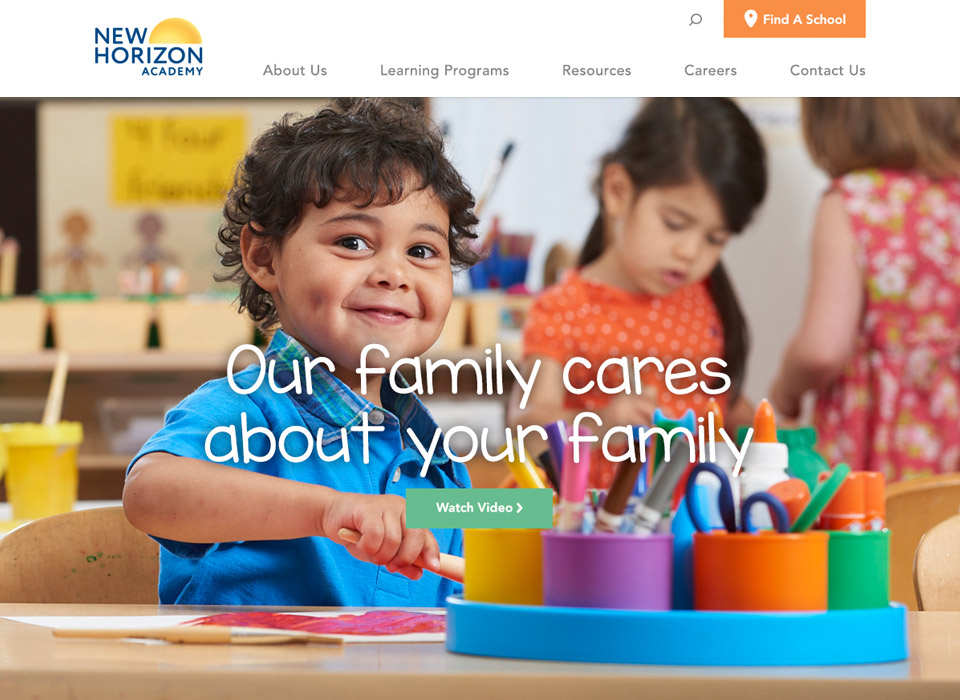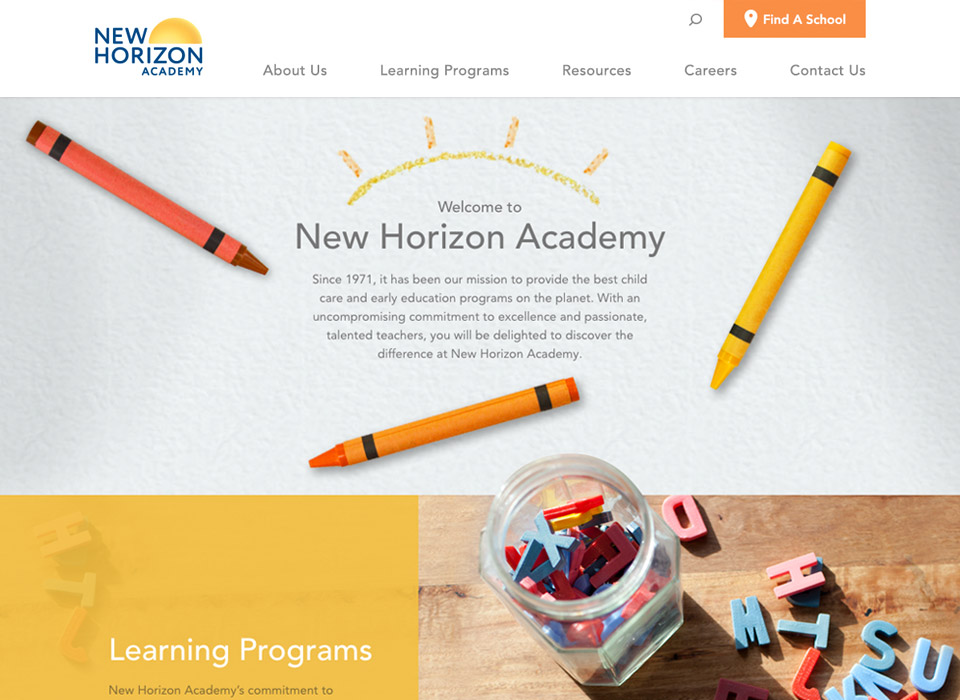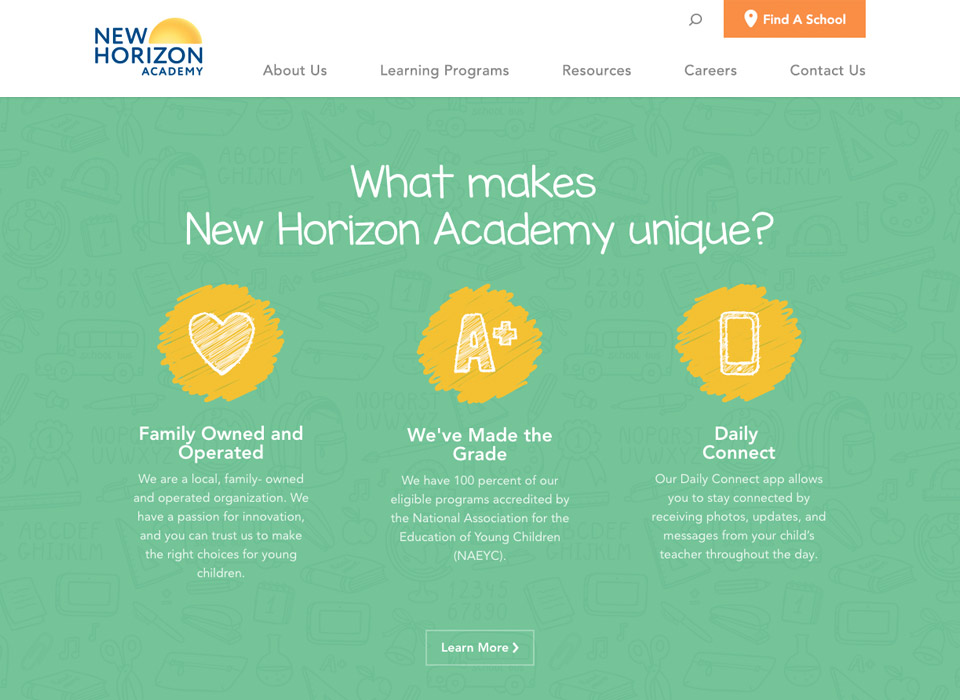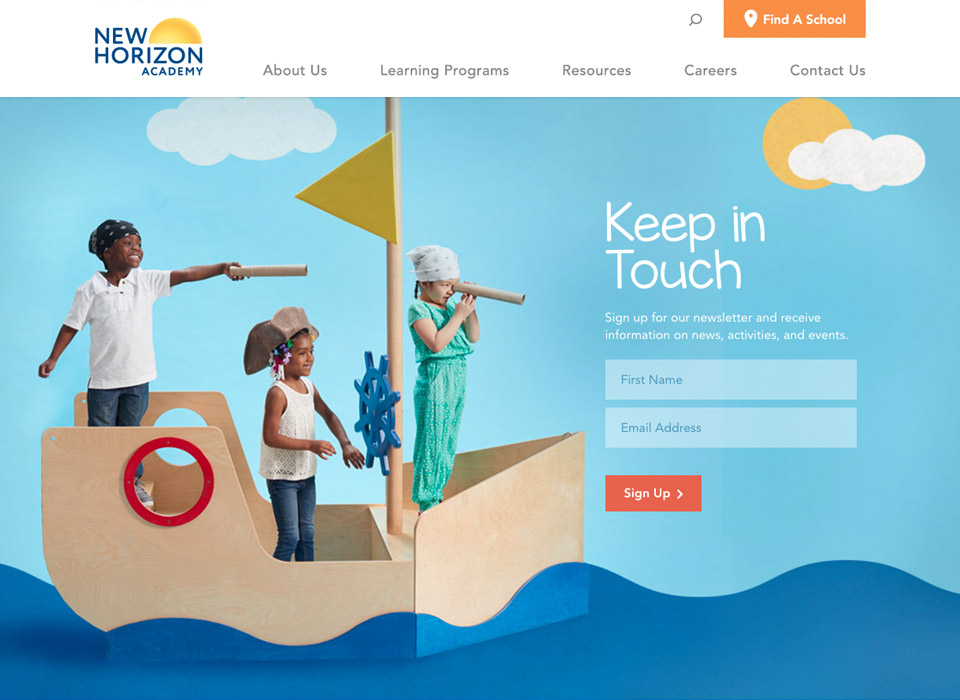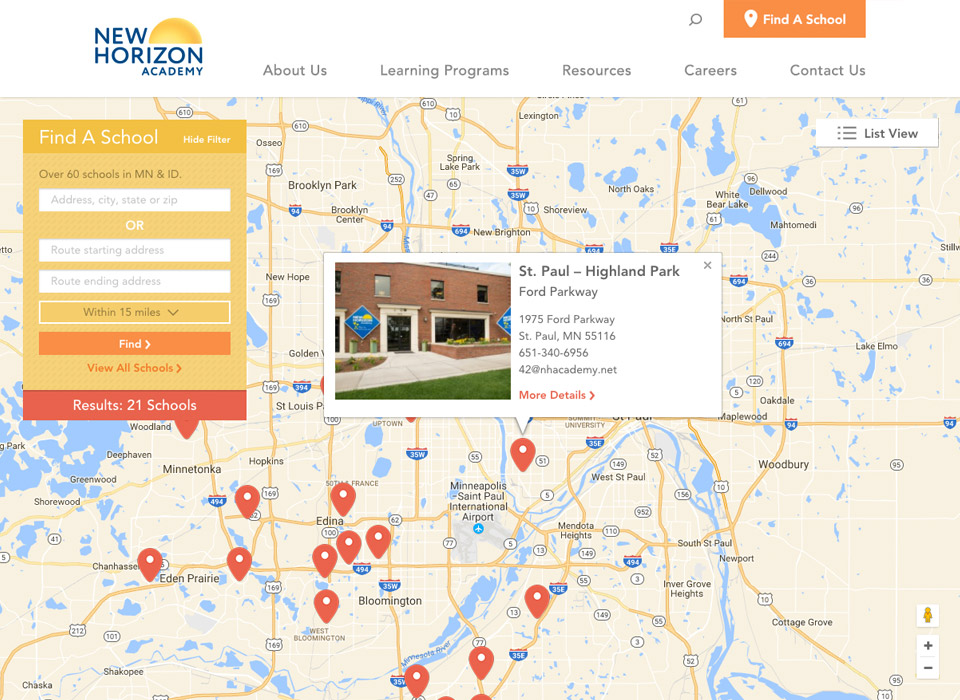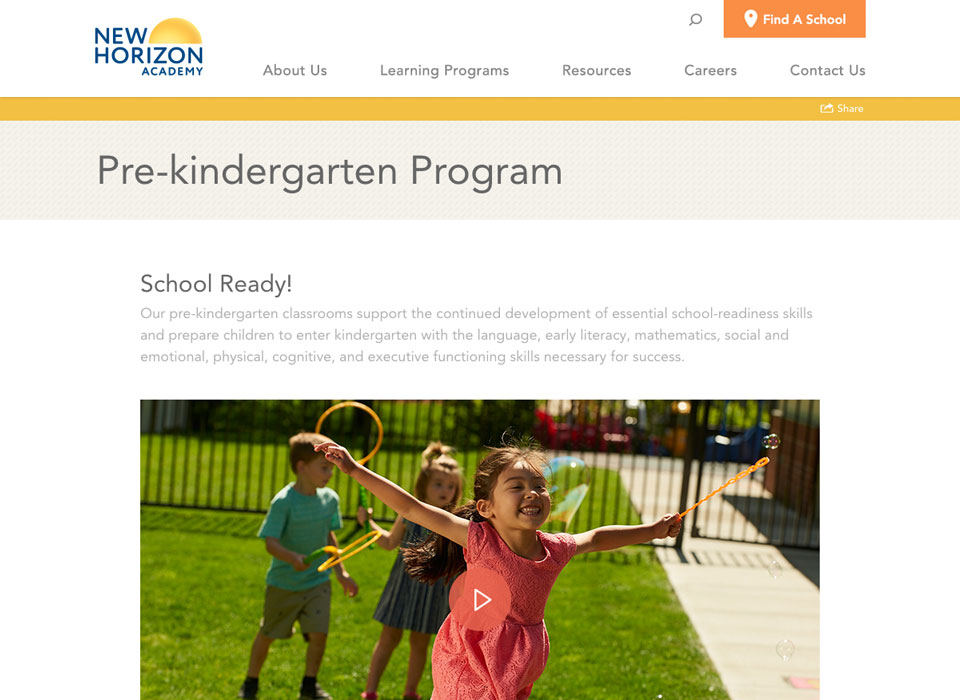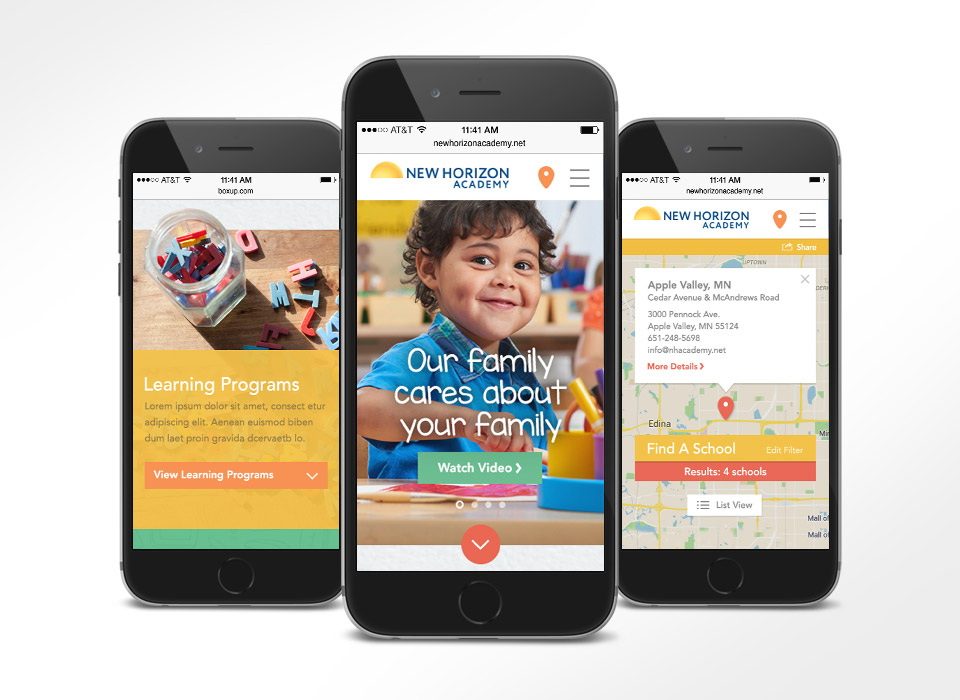 New Horizon Academy has been serving young children for over 50 years. The founder, Sue Dunkley, began her career as an elementary school teacher. Sue knew she needed to provide a nurturing place for children to go before they ventured out into the big world and entered school, a place that would help them believe in themselves. That is why New Horizon was born.
Today, New Horizon Academy has over 80 school locations in Minnesota, Idaho, Iowa and Colorado. MJ Kretsinger was invited to refresh their brand and redesign their website. As part of the engagement, MJ Kretsinger was also asked to bring in a top commercial photographer to capture a new library of photography for use on the website and marketing materials.
Our process included:
Discovery: MJK began with a discovery process where we conducted 4 – 1 hour key client stakeholder interviews to understand the history of the organization, strengths, weaknesses, and insure the executive team shared the same goals and vision for the new brand and website. We also conducted a competitive analysis to gain a better understanding of what the competitive landmark looked like. Discovery also included an SEO/Keyword Analysis so our SEO expert could understand how the old website ranked and insure the new website would rank higher post-launch.
Branding: Our team then began work on refreshing the logo. The new logo includes a dimensional sun coming over the horizon. We also updated the brand colors by moving to a lighter, brighter color palette. We then extended the new logo to an updated suite of Brand Stationery (business cards, letterhead, email, etc.) and delivered a new Brand Style Guide.
User Experience: During the branding effort, MJK was working on creating an intuitive sitemap and navigation model that presented NHA's history, learning programs, and provided quick access to the school directory so people could find a school location near them. The location detail page is important to the user, especially since every location is a little different. MJK enabled each location to have its own custom content and photos. We also added several new features like a Virtual Tour so visitors could tour the building online, the ability to schedule a tour online, geo-locating so the user would be presented schools in their area with the distance from their location, and more.
Photography: Our client realized the importance of fresh photography, so we worked together to deliver photos of care free, energetic children engaged with the teacher and other students. For young parents, it is important that the photography and content conveyed a message that says "Don't worry, your kids will love it here. Once they experience NHA and our fun learning environment you will be able to go to work and know they are in a playful and safe learning environment." Our photoshoot spanned multiple days and included photos of children and teachers working with children in a classroom environment at various NHA locations, 10 leadership team photos, and external building photos for 60 locations in Minnesota.
Interface Design: Trustworthiness, safety and quality are important aspects of finding a child care provider. Our challenge was to design a website that spoke to parents and reassured them that they and their children are in good hands with NHA. We used a variety of muted colors to create an online environment that felt fun, yet focused on providing great child care.
Development: The site was written in PHP utilizing the WordPress content management system (CMS) which enables the client to easily create various banner ads to promote the benefits of the company and other areas of the site. The website is hosted by MJ Kretsinger.
Digital Marketing & SEO: MJK also manages the digital marketing for NHA which includes monthly management and client meetings to present our Google Adwords campaign results. In addition, we also provide ongoing Search Engine Optimization which includes monthly reports on SEO rankings.
Results: The result is a fresh, new site featuring a homepage video experience along with beautiful photography, design and content that appeals to young families. Sliders are used in various places in the website to highlight the company history and various children's programs they offer. Visitors can use the "Find A School" tool that leverages location services to pinpoint school locations in their area (Geo-Location). Visitors can also enter a local destination (e.g. work) to see how many New Horizon schools are on their route. Each school location page includes teacher bios, contact information, photography of the location, testimonials, and the programs offered, so parents can make an informed decision. A robust blog was also provided. Within two months of launching the new website, New Horizon Academy reported that the number of online web inquiries about their schools had quadrupled!
To visit the website, go to newhorizonacademy.net
Services
Brand Identity, Content Management System, Design, Hosting, Photography, Responsive Design, Responsive Design Prototype, SEO/SEM, User Experience Design, Web Design, Web Development, Wordpress