All Work | TRIA Orthopaedic ( 43 of 71 )
TRIA Orthopaedic
"Runner" :30 TV Commercial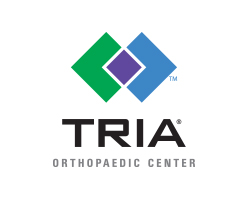 TRIA Orthopaedic Center is located in Bloomington, Minnesota and offers comprehensive orthopaedic care – from diagnosis to treatment to surgery – at one convenient location. TRIA is also the official orthopaedic partner of the Minnesota Vikings, Twins, and Wild.
TRIA looked to us to develop a television campaign to promote the fact that TRIA is not just for professional athletes, but for everyone. We conducted interviews of TRIA's internal stakeholders and their customers to identify key messages to feature in the television commercial. We then presented several storyboard concepts to TRIA Orthopaedic, and they selected two commercials for us to produce. The second television commercial is a testimonial featuring a female runner. In the television commercial, she explains how TRIA treated her like a professional athlete even though she isn't one. Their top doctors and physical therapists had her back on her feet in just 6 weeks! The television commercials are being aired on major Minneapolis & St. Paul television networks throughout 2016.
Click to view the first "Hockey Dreamer" Commercial.
Services
Copywriting, Interviews (Client & Agent), Storyboard, Strategy, Television Production