Patterns of Evidence
Ecommerce Website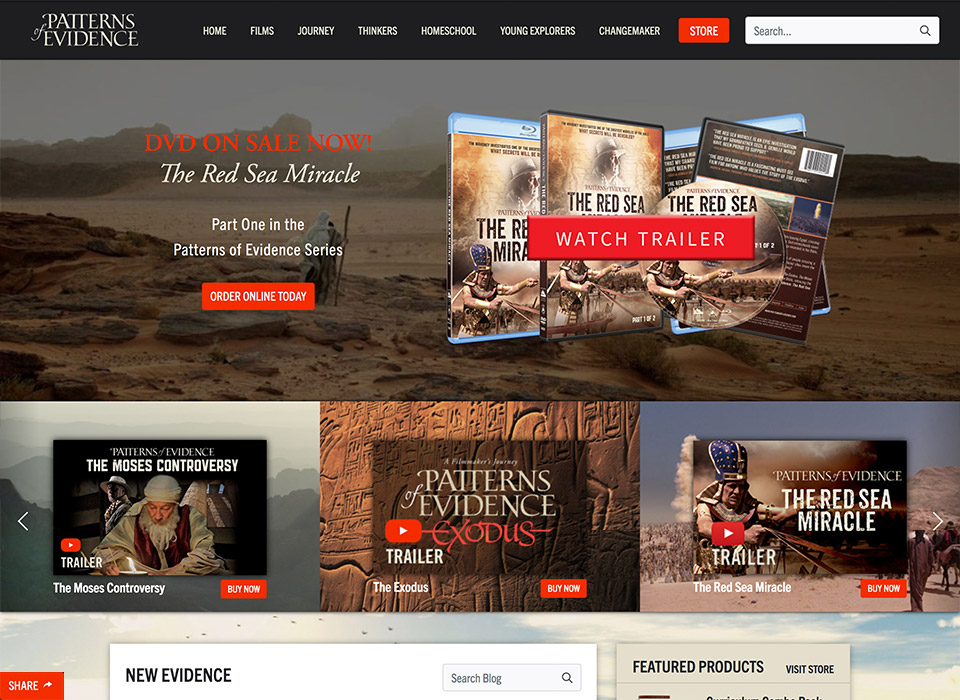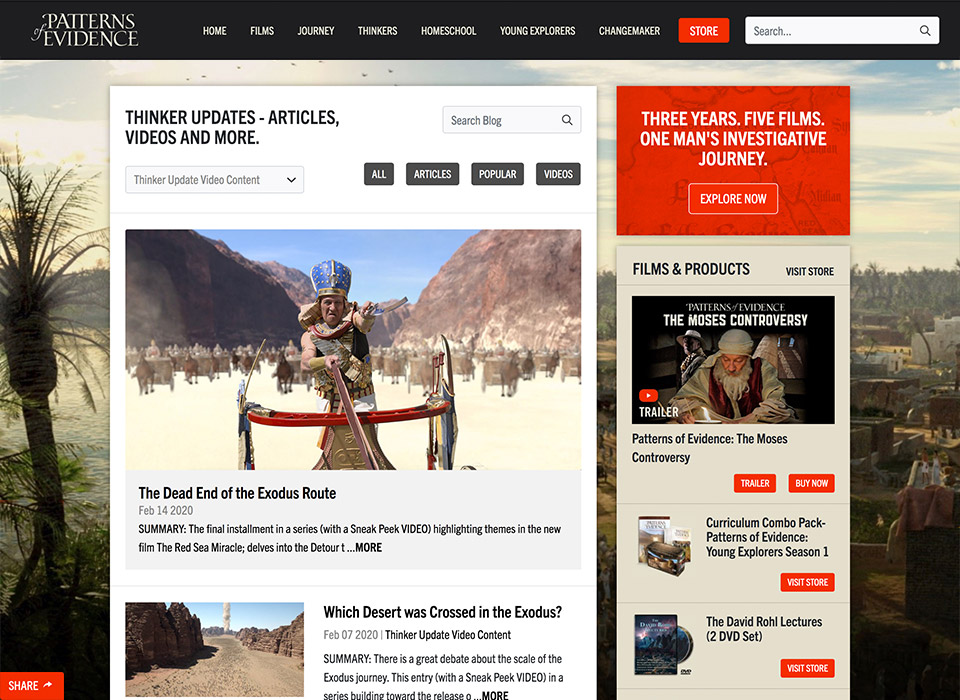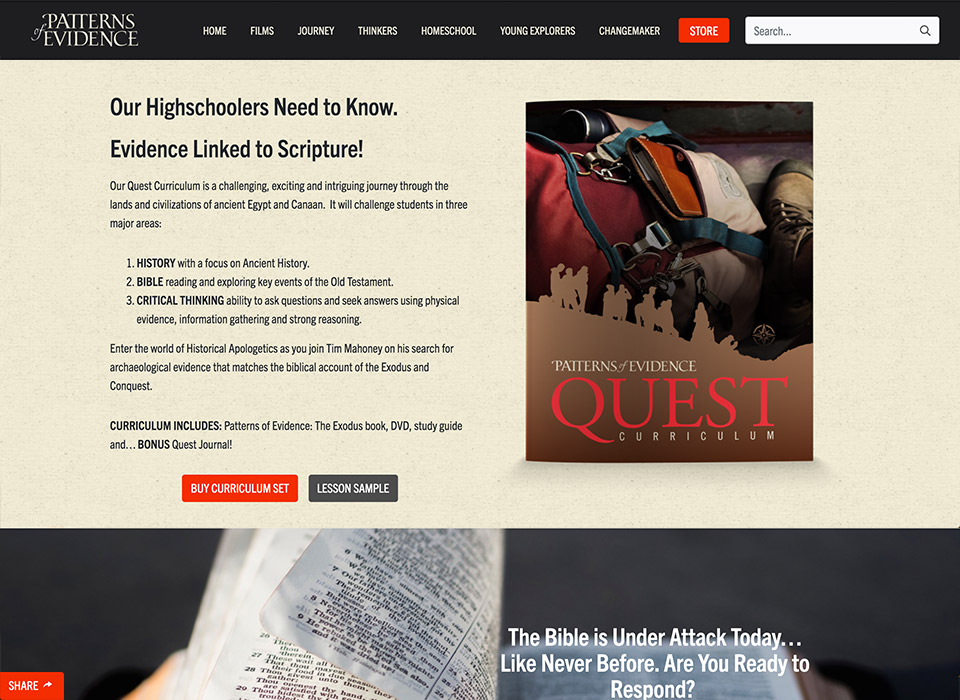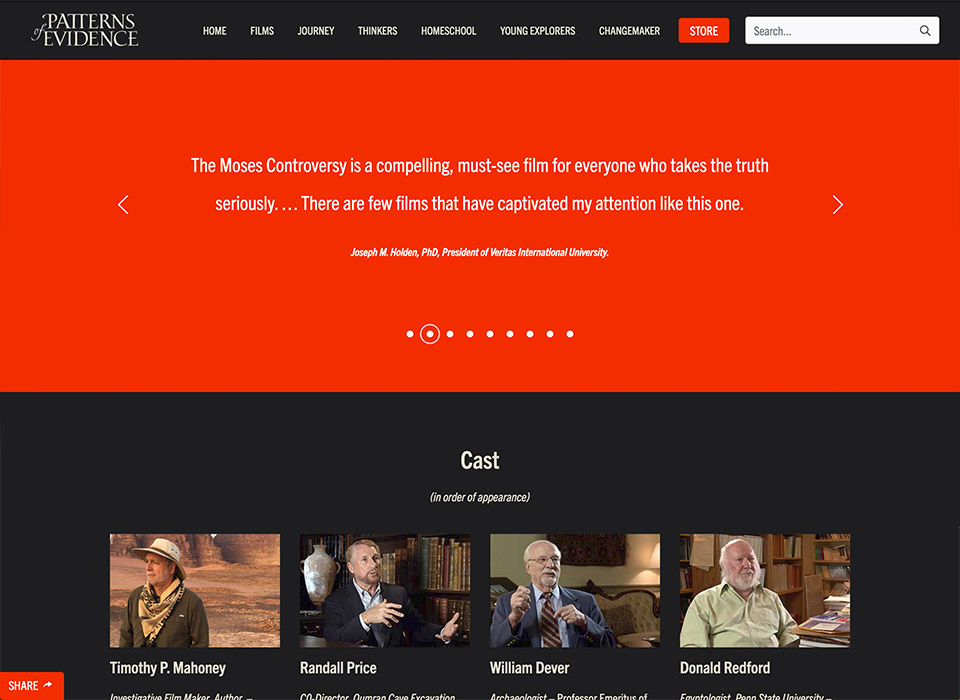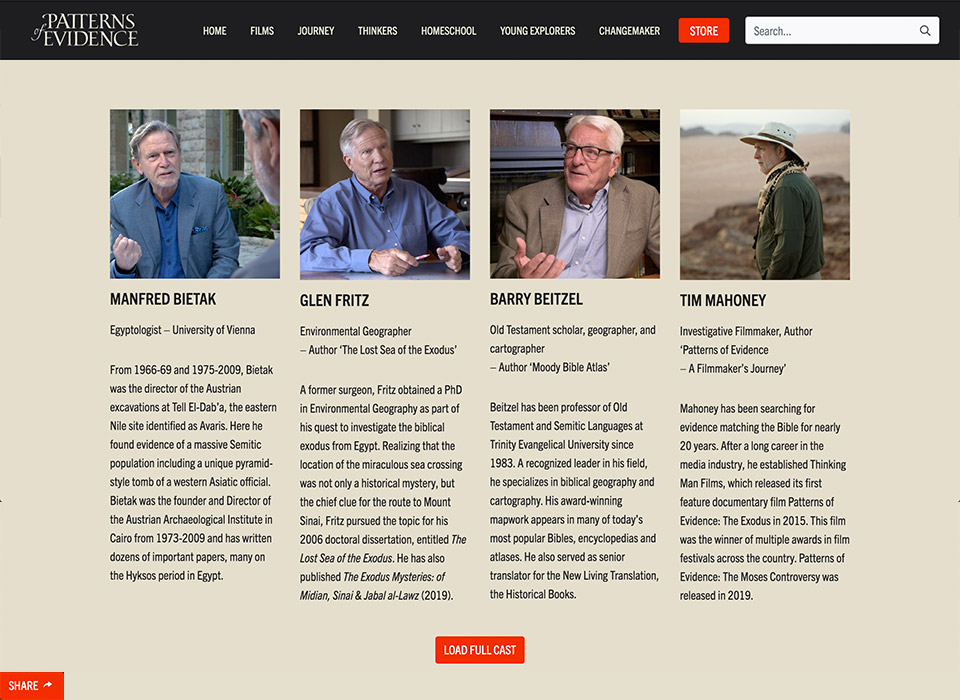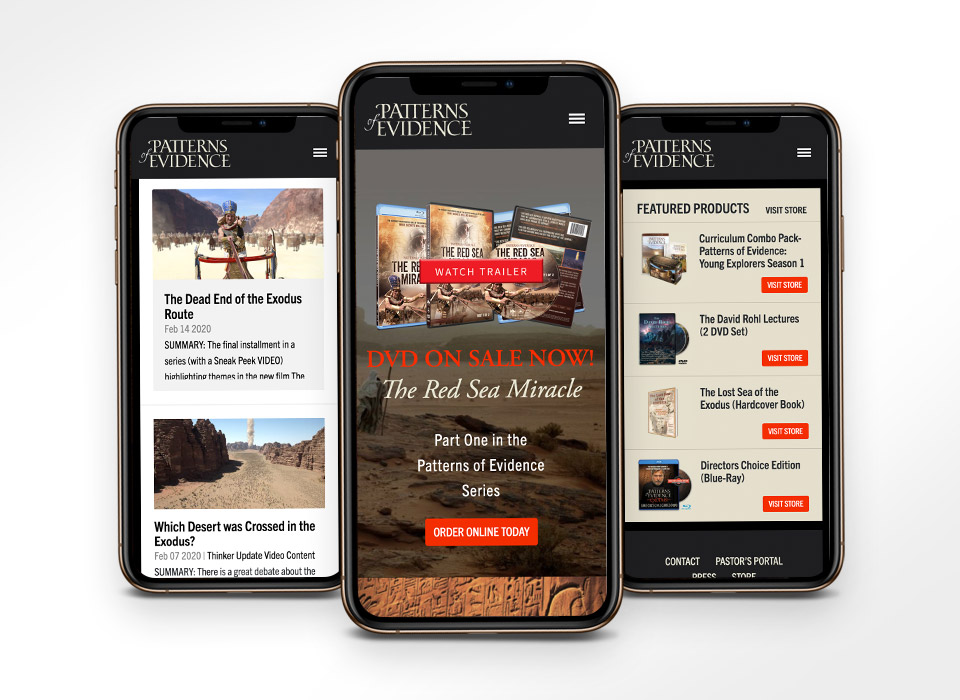 Patterns of Evidence is a documentary film series that travels through the Bible, investigating evidence of its historical credibility, the accuracy of its transmission through the centuries, and how it impacts the modern world. Timothy Mahoney is an award-winning investigative filmmaker, raised as a Christian, who now has the same question that many today are asking: Did the stories recorded in the Bible really happen?
In this award-winning feature film series, he sets off to seek answers by traveling to the locations where biblical events are said to have happened. Along the way, he interviews leading archaeologists and scholars from all over the world who argue all sides of the debate about the credibility of the Bible. The biblical stories are retold, accompanied by dramatic reenactments and special effects.
Patterns of Evidence lets the viewer draw their own conclusions as it takes them on a journey to the ancient world of the Bible. This refreshingly balanced approach is inspiring and intellectually challenging for both skeptics and believers alike, providing profound new evidence that affirms the Bible.
Tim Mahoney was facing numerous challenges with his website and turned to MJK for help. We met with Tim and his team and learned that they had an incredible ability to write content and articles that fed the desire of many people who were interested in the bible and archeology. However, they had an outdated website and store front that was in serious need of revamping, and they wanted to drive more traffic to their website.
Our recommendation was to create a new website that boldly featured the 4 feature films on the homepage. In addition, we would move the massive library of blog content on to the homepage and introduce continuous scrolling. We believed that people would visit the homepage and feast on the blog content. While there, they would look at the movies available and purchase from the online store. In addition to redesigning the website, we also recommended they invest money to optimize every blog post for search engines – which we believed would increase site traffic.
Today, Patterns of Evidence has a beautiful new website with a feature film quality look & feel. Each week, Tim and his team write a new blog post, MJK optimizes the post for search engines and places the article on the website. And the strategy is paying off! New visitors are finding the blogs and the number of customers who are visiting Patternsofevidence.com is off the charts! Visitors are registering for the blog which enables Tim and his team to use email marketing to promote their blogs and products to them long-term. This has led to strong and consistent sales revenue from the online store. As Tim and his team continue to create feature films and weekly blog posts, their customer base will only grow larger.
Services
Design, Ecommerce, Ecommerce Web Development, HTML, Information Architecture, Production, Responsive Design, SEO/SEM, Strategy, User Experience Design, Web Design, Web Development, Wordpress